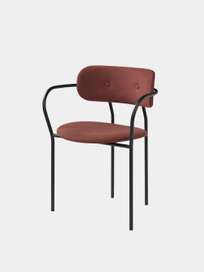 Coco Dining Armchair Fully Upholstered
Gubi
–
From: 5 745 SEK
PRODUCT DETAILS:
Coco Dining Chair is an elegant chair with high comfort and a lot of character. The design draws references to the industrial simplicity, fashion and Bauhaus which has resulted in a post-industrial look with a soft silhouette that is both feminine and playful.

Dimensions:
W: 59 cm, D: 56 cm, H: 80 cm

To order, or get more information about this product
contact info@artilleriet.se or call +46 (0) 31-711 76 21.

This product is manufactured on order of your choice.
Here we only show a selection of possibilities.