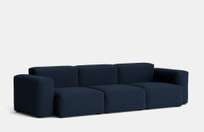 Mags Soft Low - 3 Seater Combination 1 - Flamiber Dark Blue
Hay
–
32 697 SEK
Delivery Status:
Made to order
PRODUCT DETAILS:
The module sofa Mags Soft Sofa, from Hay, is a development of the first model Mags Sofa with a elegant and minimalist design which has a more relaxed tone thanks to extra padding that gives a softer surface impression. Optimal comfort and durability are ensured by the solid design of the sofa, which has been built with durable high density foam. The low frame creates a clear lounge feeling and together with the deep seats, this results in a more open and welcoming space.

Material:
Foam and wooden frame. Black painted wooden legs. Upholstered in Flamiber Dark Blue (33% Acrylic, 30% Wool, 29% Cotton, 7% Polyester, 1% Viscose) with black stitching.

Dimensions:
L: 278,5 cm, D: 103,5 cm, H: 67 cm, SH: 37 cm

Notable:
Mags Soft Sofa is a modular sofa, available in various combinations and fabrics. It's possible to get all Mags Soft Sofa with low or high armrests. For information, please contact us at info@artilleriet.se or call +46 (0) 31-711 76 21.